Article by Ruth de Wynter, Archive Volunteer, first published in The Camden, 2013
William Camden was born at the Old Bailey, London, the son of Sampsen Camden, a painter-stainer and Elizabeth Curwen. He firstly attended Christ's Hospital School in the City of London but after suffering from Plague in 1563 was removed to Islington.  Upon recovery he attended St Paul's School, where he developed what was to be a life-long interest in antiquities. In 1566 Camden entered Oxford as a chorister under the mentorship of Dr Thomas Cooper, an outspoken opponent of the radical puritanism active at the time within the university. While there he became acquainted with Philip Sidney and others with antiquarian interests. His academic ambitions were thwarted however, not least by the religious rivalries at the university and he left in 1571 without a degree, only achieving it after petitioning in 1574.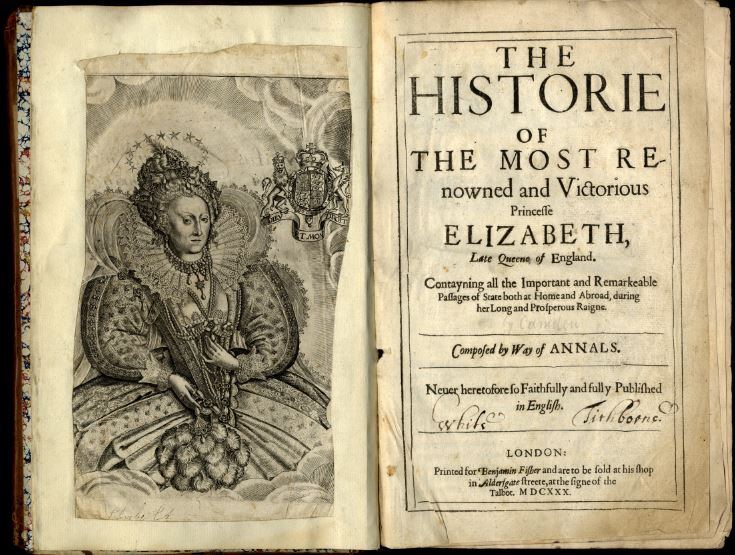 On leaving Oxford at the age of twenty there is no record of Camden's activities for the following four years, but he appeared to have no substantiated patron, position or resources. It is possible that he travelled Britain under the patronage of Gabriel Goodman, Dean of Westminster, researching antiquities and topographical material.
Camden's next recorded activity was his appointment as Second Master of Westminster School in 1575, under Goodman's influence. He remained in the post for eighteen years at an annual salary of £10.  The position enabled him to travel extensively during school holidays gathering material for his great work, a book which he would later publish under the title Britannia.
Westminster saw a period of stability during Camden's tenure as well as its emergence as a centre of academic prominence under the patronage of Lord Burghley, with a unique curriculum of classical Greek (at that time disappearing from the curriculum of similar institutions) and Latin complemented by instruction in rhetoric and grammar.  Camden developed an academic reputation, with scholars from across Europe making sure to meet him when visiting the country. He also earned the respect and admiration of Westminster pupils such as Ben Jonson and Robert Cotton, Jonson praising Camden in number 14 of his Epigrams writing:
'…most reverend head, to whom I owe
All that I am in arts, all that I know'
The first edition of Britannia was published in Latin in May 1586, dedicated to Lord Burghley.  It was the first ever county by county topographical survey of the whole of the British Isles and made an enormous impact upon its readers. Camden continued to travel in search of fresh material in support of the successive publication of several enlarged editions. These, followed by an English translation in 1610 attested to the success of Britannia. That notwithstanding, Camden's petitioning for an MA from Oxford was denied in 1588.  The school owns several early editions of the work.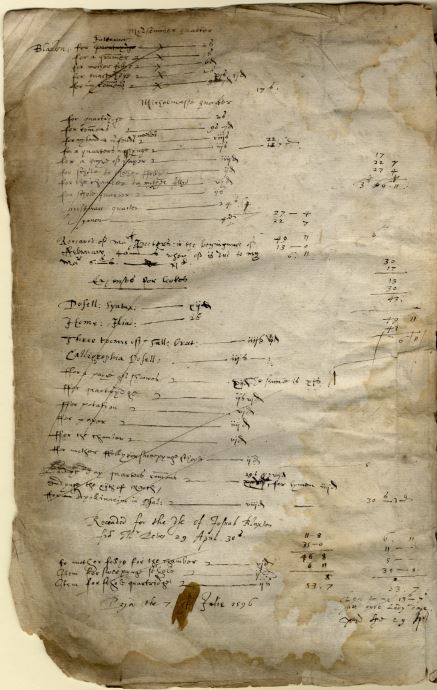 In 1593 Camden was appointed Head Master of Westminster and combined his teaching activities with continued travel and antiquarian studies.  Special dispensation was required from Elizabeth I before he could take up the role as he was not in holy orders – indeed he was the only lay Head Master of the school until the 20th Century.  In 1595 he produced the Institutio Graecae grammatices compendiaria in usum regiae scholae Westmonasteriensis, a rework of his predecessor Edward Grant's book. Camden employed some material from Cleonard to produce an elementary Greek grammar.  The text was in use for nearly 100 years at the School, only supplanted at Westminster by Richard Busby's Grammar, and was still in use in Eton (where it became known as the Eton Grammar!) until the nineteenth century.  Camden was closely involved with both School and Abbey; he sang in the choir, was Librarian of the Abbey from 1587 to 1597, authored the first guidebook to monuments in the Abbey in 1600, was awarded 'a little tenemement in the close for the tearme of his life' and even after he resigned from the School, partly due to declining health, still took meals there.
In 1597 he was installed as Clarenceaux king of arms, one of the three principle offices of the College of Arms and a position he held until his death. At the time the College of Arms was a centre of antiquarian as well as of genealogical and heraldic study.  In the school's collection is a book containing Coats of Arms in Trick and in painted Emblazonry, which suggests that Camden was involved in the design and recording of arms before he officially held this position.  On the final flyleaf, in Camden's italic hand, are notes of the school fees (including named books) of Joshua Blaxton (or Blackstone), a pupil at the School, for 1596 and 1597.
In 1607 Camden began work on the Annales Rerum Gestarum Angliae et Hiberniae Regnate Elizabetha, a history of the reign of Elizabeth I considered to be one of the great works of English historiography. The first part of the Annales, covering the reign up to 1597, appeared in 1615; the second part was published after Camden's death.
Camden moved to Chislehurst in Kent in 1609, continuing to work despite ill-health. In 1622, he founded what is now known as the Camden Chair in Ancient History at Oxford, the oldest continuing Professorship of History in England. He died in November 1623 and was buried in the south transept of Westminster Abbey.