Article by Charlotte Robinson, Archives and Records Management Assistant, first published in The Camden, 2016
George Colman (1732-1794) was a theatre manager and playwright celebrated for his comic farces. He was a King's Scholar in the 1740s and showed an early talent for lively satire. He was a little man, "without my shoes, little more than five feet in height", and is chiefly remembered as the co-author of The Clandestine Marriage (1766), which he wrote with David Garrick. He eventually went on to manage the Haymarket Theatre in the West End.
Colman was born in Florence where his father, Francis, was serving as a British envoy to the Court of Tuscany. The exact date of birth is unknown, but George was baptised on 18th April 1732 in the church of San Giovanni. When Francis died the following year, his widow Mary returned to her native England to live in a house in St James's Park, London.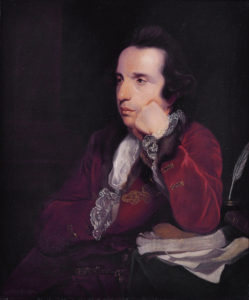 On the advice of his uncle and guardian William Pulteney, 1st Earl of Bath (OW), George was sent to join his cousin William at Westminster School. He was admitted in October 1741 and became a King's Scholar in 1746.
The Head Master at the time, Dr John Nicholl (OW), was celebrated by Colman's contemporary Richard Cumberland (OW) for possessing "the art of making his scholars gentlemen." Cumberland went on to explain that "there was a court of honour in that school, to whose unwritten laws every member of our community was amenable, and which to transgress by any act of meanness, that exposed the offender to public contempt, was a degree of punishment, compared to which the being sentenced to the rod would have been considered as an acquittal or reprieve." George Colman thrived in this environment and, by the time he was elected to Christ Church, Oxford in 1751, he was scoring the highest marks in the school.
Colman's first publication, an essay on literary criticism, was published anonymously in The Adventurer. Then in 1754, he teamed up with one of his former schoolmates Bonnell Thornton (OW) to produce The Connoisseur. This was a weekly magazine of satirical essays that was described as having "just views of the surface of life, and a very sprightly manner." (James Boswell 1791).
However, Colman's family was opposed to him pursuing a literary career. His uncle Pulteney, in particular, insisted that he should turn to law. So after earning his BA in 1755, Colman entered Lincoln's Inn and was called to the bar in January 1757. Although he worked on the Oxford circuit for the next three years, his heart was not in it. He wrote a poem, 'The Law Student', in 1757 in which he complained of the pressures that he faced from his family, of the workload, and of his lack of enthusiasm for the subject: "Knowledge in Law care only can attain, / Where honour's purchased at the price of pain." He began to find himself increasingly drawn to the world of theatre.
On Thursday evenings, George Colman would dine with six friends from his Westminster schooldays: Bonnell Thornton, William Cowper, Robert Lloyd, James Bensley and two others. This continued throughout the 1750s and early 1760s. Between them, they produced some of the most popular comedic drama, burlesque, poetry, and satirical essays of the day, and have come to be known as the Nonsense Club.
Colman's first play was Polly Honeycombe, a cautionary tale of the effects of reading too many novels. It was premiered in Drury Lane Theatre on 5th December 1760, and proved to be so popular that the newly crowned King George III specifically requested a performance. His second play, The Jealous Wife, which was performed for the first time the following February, was a brilliant success. The Gentleman's Magazine described it as having "few equals, and no superior" (1761). These successes gave Colman the confidence to finally turn his back on law.
Colman became intimate with Sarah Ford, a former lover of the actor Henry Mossop who had abandoned her and their daughter, Harriet in 1759. Colman took both Sarah and Harriet under his wing, and in October 1762 Sarah gave birth to Colman's only son, George. Colman married Sarah on 12th July 1768
He continued to write comedy which, on the whole, was received with acclaim. The highlight was The Clandestine Marriage, which he wrote in 1766 in collaboration with the actor David Garrick. Colman had struck up a friendship with Garrick back in 1757 by sending him an ironic Letter of Abuse. The Clandestine Marriage was soon translated into French and German, and an operatic version was also produced in the 1790s.
In 1767, the patent for Covent Garden theatre came up for sale, and Colman was invited to purchase a share for £15,000. Despite scandal, quarrelling and lawsuits amongst the new patentees, the theatre was consistently successful under Colman's management for the next six years. A surprise highlight was the premiere of Oliver Goldsmith's She Stoops to Conquer in 1773; Goldsmith had had to write to Colman "for God's sake take the play and let us make the best of it" but, according to Dr Johnson, it had left audiences "exhilarated" and "merry".
Behind the scenes of his professional success, however, Colman's personal life was difficult. Sarah Colman was recovering from an illness in 1771, when she took the wrong medicine and died suddenly. Harriet, aged sixteen, kept house for her step-father. Later that year, Colman fell seriously ill – "seized with a fit" at the theatre – and sold his share in the patent.
Colman took some time to recuperate in Bath and travel with his son, who by now was also a pupil at Westminster. Then in 1776, he seized the opportunity to take over the management of Haymarket Theatre from Samuel Foote. Colman was finally in his element and set about improving the repertoire and the company of actors. He continued writing plays, adaptations, comic operas and one-act pieces until the 1780s, when the gout began to overtake him. While taking a sea-bathing holiday in Margate in 1785, Colman suffered a stroke. George the Younger (OW), who was by now a celebrated writer and theatre manager in his own right, tactfully assisted his father in continuing to manage the Haymarket. However Colman's mind and body continued to deteriorate until he died in Paddington on 14th August 1794.
The Greene Collection in the school library includes a number of first or fine editions of Colman's works.